SIU Cost and Financial Aid
Costs and Financial Aid
Keeping academic excellence affordable
College is expensive, but there are many ways to lighten the financial burden. No worthwhile education is cheap, and we're dedicated to ensuring every dollar is spent in a way that helps our students succeed.
We'll guide you through the process and help you squeeze the most out of every penny.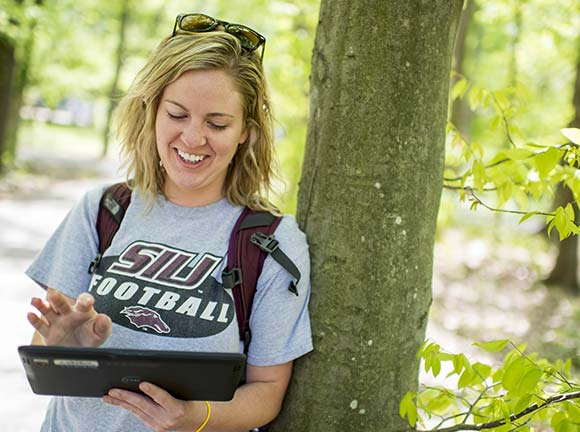 In order to apply for financial aid, complete the Free Application for Federal Student Aid (FAFSA).
Our School Code: 001758
Ways to make your education investment count
Legacy Tuition
Children of SIU Carbondale graduates save on tuition. Students eligible for the Legacy Tuition Rate pay 80% of the applicable tuition rate.
Saluki Commitment
If you qualify for the Saluki Commitment and your financial aid package does not completely pay for your tuition and mandatory fees, we will close the gap to make sure there are no financial barriers between you and your education.
No Out-of-State Rate
Domestic, undergraduate students who are not IL residents pay the in-state tuition rate.

International Student
Financial Aid Quick Facts
SIU awards more than $20 million ($4 million to new students) in undergraduate scholarships each year.
More than 5,500 incoming students are awarded scholarships each year through the Academic Scholarship Office.
The university employs about 2,000 students on campus each year. Those students earn more than $4 million.
We have more than 1,300 graduate assistantships.