Saluki Safety
Main Content
SIU Carbondale's first priority is to ensure that our students, faculty and staff stay safe, whether they are in the classroom, a lab, an office or a residence hall.
Safety protocols will be updated as needed.
Be sure to review the section on your responsibilities as we work together to keep all members of our community safe.
FACE COVERINGS/MASKS
The wearing of face coverings is encouraged but not required in most settings. However, masks will still be required where regulated by government entities such as health care settings, including the Student Health Center.
When you wear a mask, you are protecting yourself and others. Masks help maximize protection from variants and prevent possibly spreading the illness to others.
CLEANING
Stringent cleaning protocols have been established across the university. We take our responsibilities seriously and have received or ordered:
3 million disinfectant wipes
1,400 gallons of hand sanitizer (and we are also making our own!)
4,000 spray bottles
15,800 rolls of paper towels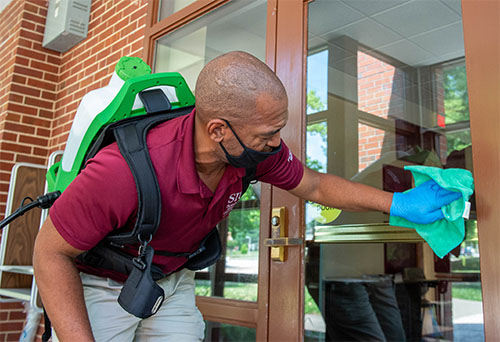 High-powered cleaning supplies have been selected based on their effectiveness and how fast they kill viruses and bacteria.
Door handles, light switches, handrails, elevator buttons, sink handles and restroom surfaces will be cleaned multiple times per day.
Other parts of common spaces such as lobbies, hallways and conference rooms will be cleaned daily.
Hand sanitizers are available in each building.
Additional cleaning protocols for individual areas such as offices, classrooms and residence halls are outlined within each area below.
TESTING AND REPORTING
SIU works closely with the Jackson County Health Department, Southern Illinois Healthcare and its own School of Medicine to assess and implement testing and tracing.
Testing
On-campus and drive-through testing is available to students, faculty and staff.  Details and information about how to make an appointment are available at siu.edu/coronavirus/testing.
Individuals who are experiencing symptoms must self-quarantine until they receive further instruction or go to a testing site. Employees should not come to work, and students should not come to class.

Students with symptoms should contact the Student Health Center at 618-453-3311 or shcinfo@siu.edu.
Faculty and staff should contact their health providers or the Southern Illinois Healthcare COVID-19 hotline at 844-988-7800 for instructions or go to a testing site through a community-based health care entity.
Reporting
The Jackson County Health Department is responsible for reporting the number of cases in the county. Visit the Jackson County Health Department for information about cases in the county and what to do if you might have been exposed. Visit the Illinois Department of Public Health for information about total cases statewide and to search for cases by ZIP code.
If you are aware of student or staff case of COVID-19, please fill out a confidential report so the university can work with the health department to follow up.
ISOLATION
According to the CDC, isolation separates sick people with a contagious disease from people who are not sick, and it help protect the public. Here's what you need to know.
The university has reserved isolation space for students diagnosed with COVID-19 who live on campus. Meals will be delivered, and students are monitored and receive health care through SIU Student Health Services.
Individuals who do not live on campus are typically directed to isolate at home. Public health officials will contact them routinely to monitor symptoms.
Students who test positive for COVID-19 should contact the Dean of Students office at 618-453-2461.
The university will notify instructors when on-campus or off-campus students will be absent from class for an extended period. Student Disability Services and the Dean of Students Office will work with both professors and students to help them stay on top of their courses.
YOUR RESPONSIBILITY
Every one of us can take simple steps to protect ourselves and each other:
Wash your hands multiple times a day for at least 20 seconds using soap and water; use hand sanitizer when soap and water are not available.
Follow all of the social distancing, safety and cleaning protocols outlined here.
Do not share drinks and other items that can transfer the virus.
Stay up-to-date on your immunizations and flu shots.
Know the symptoms of COVID-19. If you have symptoms, self-quarantine until you have consulted with a health professional (students should contact the Student Health Center).
Assist with contact tracing if you are contacted, and follow the directions of health officials.
Thank you for doing your part as a role model and advocate for Saluki safety.