Saluki Safety
Main Content
SIU Carbondale's first priority is to ensure that our students, faculty and staff stay safe, whether they are in the classroom, a lab, an office or a residence hall. The safety protocols were updated in December 2020.
The protocols are based on the recommendations of multiple health agencies and the state's Restore Illinois plan, and they are subject to change as new information and guidance is available.
Be sure to review the section on your responsibilities as we work together to keep all members of our community safe.
FACE COVERINGS/MASKS
When you wear a mask, you are protecting yourself and others. Research shows that you are highly vulnerable to COVID-19 if you spend more than 15 minutes within 6 feet of an infected individual when you are not wearing masks. Because some people with COVID-19 do not have symptoms, they do not know they are exposing others. Masks are critically important to minimizing the spread of COVID-19.
For all of these reasons, masks are required by the university in compliance with an order from the governor of Illinois.
Employees and students will be provided reusable masks but may also use their own.

Employees have been provided masks. Email hrbenefits@siu.edu if you did not receive yours.

Students and student employees who have not picked up their masks may go to the Dean of Students office in room 488 of the Student Services Building, the information desk in the Student Services Building, the Student Recreation Center, the Student Center I.D. Office, and the Student Health Center Wellness office. Pick-up is available between 8 a.m. and 4:40 p.m. Monday through Friday. Bring your student ID.

Face masks are required in indoor public spaces regardless of the ability to maintain social distance; indoor public places include spaces anyone can access, such as reception areas with walk-in access, lobbies of buildings and restrooms.
Masks must be worn in all locations, including offices, laboratories and classrooms, where multiple people are present and social distancing is variable or not possible.
Masks are strongly recommended when outdoors on campus and are required outdoors when social distancing is not possible.
Masks are required when multiple individuals share a university vehicle or are traveling on university business.
In short, a mask must be worn at all times when you are indoors unless you are alone in a private office.
Email pandemicinfo@siu.edu to make a confidential report of mask violations.
SOCIAL DISTANCING
The following steps are being taken campus-wide. Social distancing strategies for specialized areas, such as classrooms and dining halls, are described within each area under "Additional Strategies" below.
Clear, acrylic partitions have been provided for reception areas or between work stations that are less than 6 feet apart and cannot be changed.
Maximum occupancy limits for common areas such as conference and break rooms are posted. When possible, offices will remove furniture to ensure social distancing. For example, some chairs around conference tables may be removed.
Offices will be open but the number of staff working in an area will be limited and based on the status of COVID-19 in the region.
Employee work stations will be at least 6 feet apart. If this is not possible, alternative work stations will be identified, staggered work schedules may be implemented or other steps will be taken to ensure social distancing.
Floor decals will be in place 6 feet apart and will be available for spaces in which individuals typically form lines.
In most cases, elevators are limited to one or two people at a time; limits will be posted.
Campus facilities will be limited to university-sponsored events; external groups may not rent or use them.
Gatherings will be limited to no more than 50 people and will be approved based on a detailed safety plan that incorporates masks, cleaning protocols and social distancing.
CLEANING
Stringent cleaning protocols have been established across the university. We take our responsibilities seriously and have received or ordered:
3 million disinfectant wipes
1,400 gallons of hand sanitizer (and we are also making our own!)
4,000 spray bottles
15,800 rolls of paper towels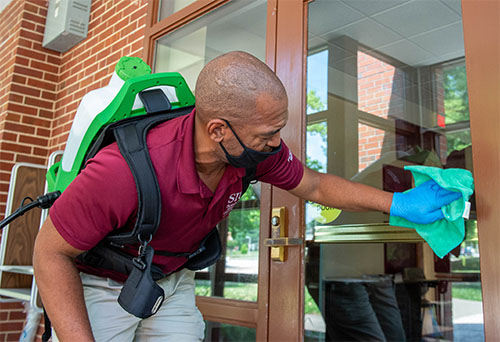 High-powered cleaning supplies have been selected based on their effectiveness and how fast they kill viruses and bacteria.
Door handles, light switches, handrails, elevator buttons, sink handles and restroom surfaces will be cleaned multiple times per day.
Other parts of common spaces such as lobbies, hallways and conference rooms will be cleaned daily.
Hand sanitizers are available in each building.
Additional cleaning protocols for individual areas such as offices, classrooms and residence halls are outlined within each area below.
STRATEGIES BY AREA
In addition to the cleaning protocols, masks and social distancing that will be implemented campus-wide, additional strategies have been developed for various areas of the campus.
Buildings and common areas
Upgraded air filters are being put in place in buildings across campus.
Touchless water stations that allow users to refill water bottles are in every academic and administrative building. Regular water fountains will be turned off to protect you and others.
Interior hallway and suite entrance doors are left open whenever possible to minimize contact by people touching doorknobs. This does not apply to doors to individual offices and laboratories that do not serve as reception areas.
Classrooms
See a short video related to courses and classrooms and additional information below.
All instructors will be provided a detailed classroom safety guide.
Cleaning protocols between classes will be based on classroom size.

University physical plant staff will clean large classrooms between classes.
In smaller classrooms and laboratories, individual disinfectant wipes (more than 3 million have been ordered!) will be provided so that students entering the room can wipe down their seats, desks or workstations.
Instructors will wipe down shared instructional equipment, such as computer keyboards using provided disinfectant wipes.
Trash cans will be provided.

General cleaning of classrooms will take place daily, with door handles, light switches and other commonly touched items cleaned multiple times per day.
Rooms with fixed seating will have seats that are marked as "to be used" to support social distancing. Rooms with movable seating will be arranged for social distancing.
Instructors should use seating charts to assign specific seats to students so that it will be easier to assist with contract tracing if necessary.
Students and instructors will wear masks; at the beginning of the semester, instructors will be provided extra masks to give to students who have forgotten theirs. Mask requirements and information will be included in course syllabi.
Instructors and academic advisors will be available for virtual office hours and appointments.
In some cases, depending upon the course and classroom, instructors will be provided microphones to support social distancing and clear communication.
Offices
Staff members are responsible for wiping down their private offices; supplies will be provided.
Employees will clean and disinfect frequently-touched equipment in their areas such as telephones, keyboards, copy machine buttons, shared break room appliances, etc.
Surface disinfectant is being provided for employees to use on counter tops, desks and conference and breakroom tables. Leave it on for 10 minutes before wiping down, or spray on and leave it.
Employees in offices should put their trash cans outside of office doors each evening to minimize the need for individuals to come into the office.
Labs
Computer labs: Seating has been modified to allow for social distancing. Disinfectant wipes will be provided so that users can wipe down workspaces and equipment, such as a keyboard and mouse, before use.
Instructional labs: All instructional labs are being evaluated for possible modifications of physical space. Cleaning protocols are based on the function of the lab. Cleaning kits will be provided. Cleaning kits are being provided.
Research labs: Cleaning and safety protocols for research labs are based on the nature of the laboratory. All operating research labs have received approval of a detailed safety plan. Individuals with questions should contact the lab director.
Morris Library
Library stacks will be closed, and items will be checked out in advance. Individuals with specialized research needs that require access to the stacks may make an appointment.
Study areas (Delyte's study area, first floor rotunda and computer lab 139) will be configured for social distancing; occupancy level will be set and monitored.
Wipes will be provided for students to sanitize working spaces and computer equipment.
Access to collections will be limited to current students, faculty and staff.
Reference services will be offered online and by special appointment.
Electronic resources will continue to be accessed remotely.
Access to special collections, maps, microfilm and the testing, tutoring and writing center will be by appointment.
Residence halls
Common areas will be deep cleaned twice each day, with door handles, light switches and other commonly touched items cleaned multiple times per day.
Disinfectant spray bottles will be provided in each suite bathroom for students' use in their rooms and bathrooms. Students may have the bottles refilled in area offices.
Bathrooms for students in University Hall will be cleaned multiple times daily.
Masks are required in all lobbies, hallways, elevators, stairwells, laundry rooms and common rooms at all times.
Common areas in residence halls will be open to residents; however, lobby games (billiards, ping pong) will not be available.
Visitors will not be allowed.
Dining halls
Dining rooms will be open.
Hand sanitizers will be available at the entry of each dining hall.
Patrons swipe their ID (a touchless process) to enter the dining hall any time during posted operating hours.
All patrons must wear masks to enter the dining hall, during any movement throughout the hall, and until they are seated at the table.
Tables will be set at least 6 feet apart and seating will be limited per table. Individual seating will be available.
Dining staff will wipe down tables and chairs after each use.
Preparation of meals will be touch-free for patrons. Staff will prepare and plate meals to order. This includes the previously self-serve style meal prep with action stations (i.e. The Grill), main lines, deli lines, salad bars, vegan/vegetarian options, beverages, cereals, breads, waffles, sauces and condiments and silverware.
Student Recreation Center
Hygiene stations with hand sanitizer and sanitary towels for cleaning equipment are available throughout.
Door handles, light switches, handrails, elevator buttons, sink handles and restroom surfaces are cleaned multiple times per day.
Other parts of common spaces such as lobbies, hallways and conference rooms are cleaned daily.
Facilities will have maximum occupancy limits that will be monitored hourly.
Detailed plans for each area (weight rooms, courts, locker rooms, pool, etc.) have been implemented. Please follow instructional signage.
Patrons check in using a touchless card-swipe machine.
Equipment is spaced for social distancing; in some cases, every other machine is disabled, and machines are rotated weekly.
Tape is applied to floors to outline social distance spacing in group exercise areas.
Patrons are asked to bring their own water bottles for filling at touchless stations and their own towels.
Student Center
Hand sanitizer will be available at all open entrances.
Entry points will be limited.
Meeting room spaces will be pre-set for social distancing.
Selected dining services will be available with appropriate safety precautions.
Online bookstore orders can be picked up at the northwest hallway doors.
The bookstore will be open; occupancy levels will be set and monitored.
Bowling, billiards and eSports areas will be modified for social distancing, and equipment will be cleaned between users
Athletics
Athletics facilities are limited to student-athletes and athletics staff.
Staff and student-athletes clean equipment prior to the start of workouts, before and after sets, and at the end of the day.
The turf in the weight room and in Saluki Stadium are sanitized weekly.
Other protocols have been implemented in compliance with NCAA requirements.
TESTING, TRACING AND REPORTING
SIU works closely with the Jackson County Health Department, Southern Illinois Healthcare and its own School of Medicine to assess and implement testing and tracing.
Testing
On-campus and drive-through testing is available to students, faculty and staff. (On-campus testing is available during the semester only.) Details and information about how to make an appointment are available at siu.edu/coronavirus/testing. Students returning to live on campus for spring semester will be tested when they arrive; they will receive specific instructions from University Housing. All other returning students are encouraged to test before they return to the community.
Individuals who are experiencing symptoms must self-quarantine until they receive further instruction or go to a testing site. Employees should not come to work, and students should not come to class.

Students with symptoms or who are concerned about possible exposure should contact the Student Health Center at 618-453-3311 or shcinfo@siu.edu.
Faculty and staff should contact their health providers or the Southern Illinois Healthcare COVID-19 hotline at 844-988-7800 for instructions or go to a testing site through a community-based health care entity.
Tracing
Contact tracing involves identifying the contacts of people who have been diagnosed with an infectious disease. The Jackson County Health Department, in coordination with medical health providers and the university, has established protocols for contact tracing that comply with Illinois Department of Health and CDC standards. The contact tracing process is described below.
Individuals who test positive for COVID-19 will be contacted by tracing personnel. Contact tracers will request information regarding recent contacts.
Contract tracers may also reach out to supervisors who maintain schedules, course instructors who maintain attendance records and others.
All faculty, staff, and students are required to comply with contact tracing protocols.
Faculty, staff and students will be contacted directly by the Jackson County Health Department if there is the possibility of exposure. The health department will provide further direction regarding quarantine or isolation. If you have not been contacted, it means there is no reason to believe that you have been exposed.
Reporting
ISOLATION AND QUARANTINE
According to the CDC, isolation separates sick people with a contagious disease from people who are not sick, and quarantine separates and restricts the movement of people who were exposed to a contagious disease to see if they become sick. Both isolation and quarantine help protect the public. Here's what you need to know.
The university has reserved isolation space for students diagnosed with COVID-19 who live on campus. Meals will be delivered, and students are monitored and receive health care through SIU Student Health Services.
Students who are in quarantine will stay in their single-person rooms, will be monitored and will have meals delivered to their rooms.
Individuals who do not live on campus are typically directed to quarantine or isolate at home. Public health officials will contact them routinely to monitor symptoms.
Students who test positive for COVID-19 or have been quarantined by the health department should contact the Dean of Students office at 618-453-2461.
The university will notify instructors when on-campus or off-campus students will be absent from class for an extended period. Student Disability Services and the Dean of Students Office will work with both professors and students to help them stay on top of their courses.
Individuals in quarantine or isolation will be released by the Jackson County Health Department.
YOUR RESPONSIBILITY
Every one of us can take simple steps to protect ourselves and each other:
Wear a mask (it's required!). Remember that it's not only about you, but about your friends, colleagues and their family members, many of whom may be at high risk for serious complications from COVID-19.
Wash your hands multiple times a day for at least 20 seconds using soap and water; use hand sanitizer when soap and water are not available.
Follow all of the social distancing, safety and cleaning protocols outlined here.
Do not share drinks and other items that can transfer the virus.
Avoid gatherings; practice social distancing (and wear masks!) if you must go.
Stay up-to-date on your immunizations and flu shots.
Avoid traveling once the semester begins; travel on university business is discouraged but can be approved by a vice chancellor.
Know the symptoms of COVID-19. If you have symptoms, self-quarantine until you have consulted with a health professional (students should contact the Student Health Center).
Assist with contact tracing if you are contacted, and follow the directions of health officials.
Thank you for doing your part as a role model and advocate for Saluki safety.